In the era of globalization, businesses are embracing advanced technologies to streamline their supply chain in response to the increased market complexity, heightened customer demands and unexpected disruptions.
Using internet connectivity and advanced database system, your company can conduct supply chain planning faster to minimize the impact of disruptions, improve lead-times, proactively manage inventory, and improve customer experiences that boost sales and company growth.
High quality is the core value of everything we do.
Our logistics technology solutions are designed to ensure customers with reliable and efficient warehouse and distribution services. From receiving to packaging, any error at any stage can cause inaccurate shipping. To build a perfect logistics process, we developed a verification system to ensure that items match the order description and shipping labels, such as SKUs, quantity, and serial number. Leave the quality assurance to us and enjoy your stress-free, error-free supply chain.
To stay competitive in today's complex market, you need to adapt quickly.
Our warehouse management system (WMS) integrates other applications, such as the customer's core system or transportation management system. This IoT-based warehouse solution creates greater visibility within your supply chain, giving you the maximum control over operations and accurate real-time data for making informed decisions.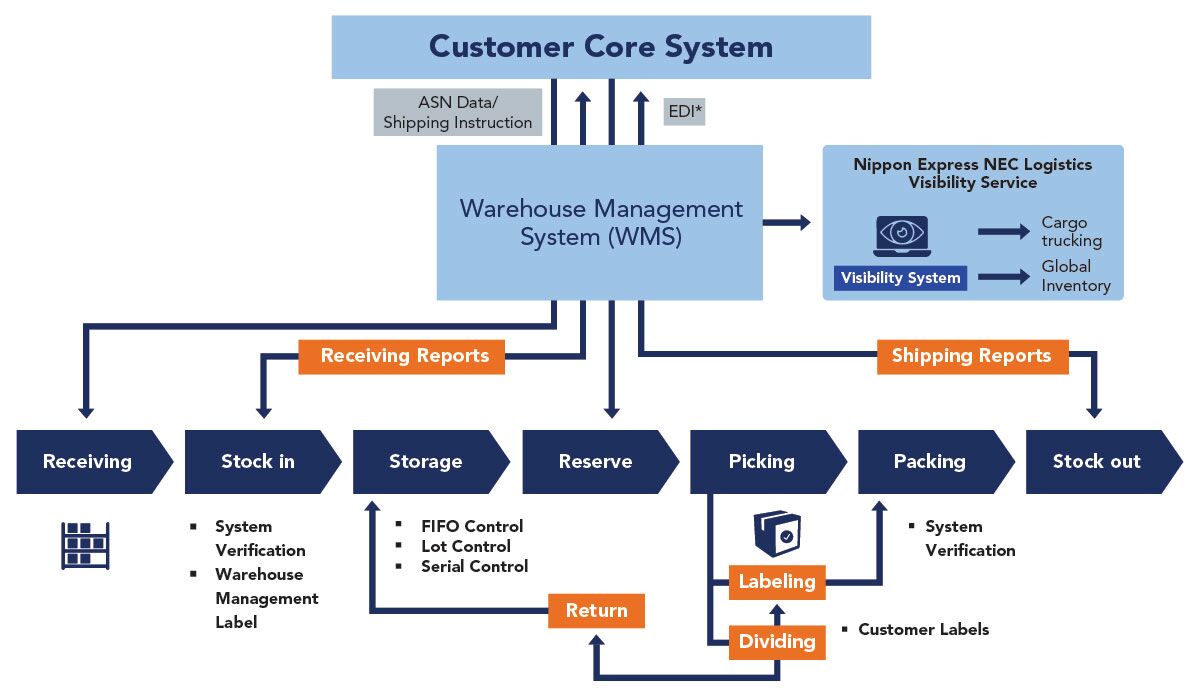 This diagram shows the services we provide along your supply chain.
First, an advanced shipping notice (ASN) that provides detailed information about pending delivery can be delivered to our WMS via electronic data interchange (EDI), reducing data entry time and errors in the receiving process.

Next, every piece of material or goods that is received, being registered in the system with a unique code, is available for cargo tracing and tracking.

Finally, when the package is shipped to the end-user, customers can monitor the shipping status through our traceability platform Visibility.
Visibility
"Visibility" is a cloud-based visibility platform developed by our logistics experts. It collects data across the supply chain and ensures that customer can see their whole supply chain at a glance. With our Visibility platform, you get improved transparency, gain more control of your operational activities, and can respond to supply chain disruptions. Learn more about how Visibility can help improve your supply chain in terms of tracking system, real-time inventory management, and documentation management.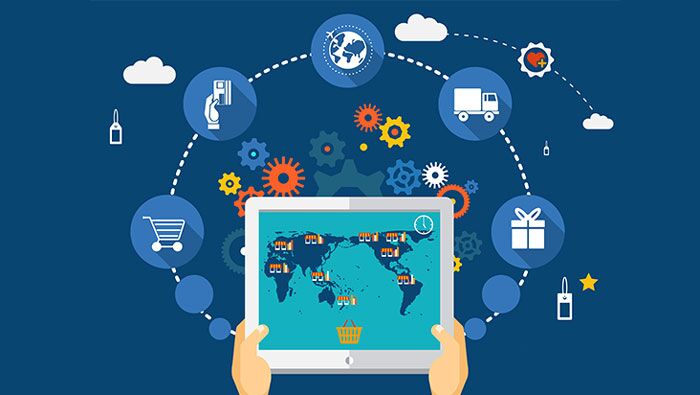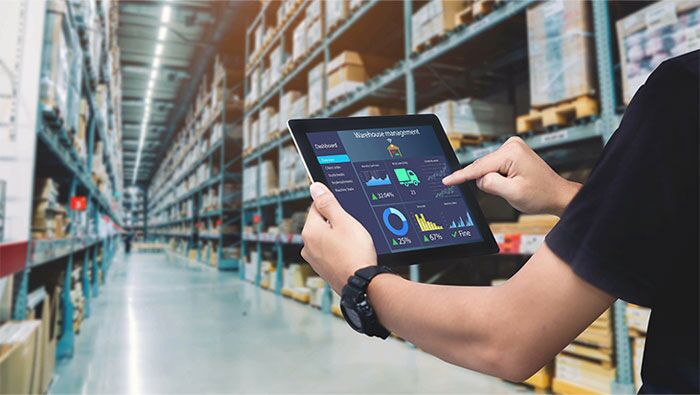 MARS – Warehouse Management System
MARS is a warehouse management system, designed by our IT specialists, that delivers comprehensive solutions to improve order accuracy and management of inventory. It helps manage and monitor entire warehousing activities, including receiving, sorting, and shipping, as well as the management of inventory. You can always upgrade or downgrade your package as your business needs change, leveraging technology to achieve efficient and effective distribution, ultimately for the growth of your business.
Customer-Focused Design
Customer satisfaction is critical to a company's longevity and success. At NECLHK, we offer an array of IT solutions to meet all the specific processes and industry requirements you need. In terms of efficiency, the advantages are shortened lead-time, reduced costs, and reduced inventory. The long-term effectiveness is reflected in customer service improvement and market share expansion due to improved speed, efficiency, and accuracy of the fulfillment process. Partner with us and significantly grow toward your goals with a flexible and streamlined supply chain..