Warehousing and Distribution
The corporate climate has evolved quickly in recent years, becoming more complicated and competitive. It is essential to have well-functioning warehousing and distribution management, optimized distribution processes, reduced operation time, and an improved customer experience.
With our comprehensive logistics knowledge, we offer a full suite of warehouse services that are adapted to each customer's individual requirements.
From receipt through shipping, we strive to give our clients flexible, dependable, and high-quality service. We do this to help our customers stay competitive and accomplish their business objectives.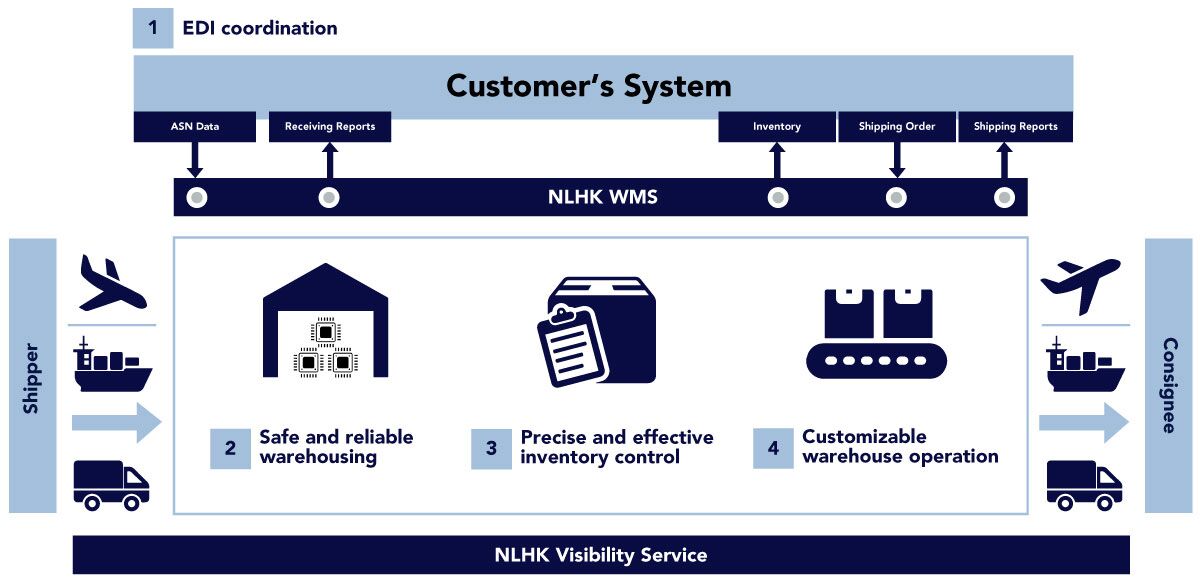 EDI coordination for real-time information access
Receiving reports

Inventory reports

Shipping reports

Safe and Reliable Warehousing
TAPA Class A accredited warehouse*

Dust management and electrostatic control

Climate-controlled settings (temperature and humidity)

Precise and effective Inventory Control
Lot Control and traceability

Serial Number Management 

FIFO (first in, first out) warehousing

Customisable Warehouse Operations
Splitting and repackaging lots

Customised labeling on all packages

Comprehensive ESD-protected handling
* TAPA:  Transported Asset Protection Association is a globally recognized supply chain security organization that certifies manufacturer and logistics providers' highest security requirements.
Warehouse Service Highlights
Short-term/long-term storage rental
Secure storage for pallets, crates, cartons or specialised packages at climate-controlled warehouses.
Computer control of inventories
Unique code for every package, providing access to accurate inventory levels and supply chain visibility.
Labelling and customiSation
Design and apply customised labels to improve customer satisfaction and loyalty.
Order processing, inbound and outbound
Transport and Local Distribution
Reliable and cost-effective domestic and cross-border trucking service.
Container loading and unloading
Loading and unloading bay for shipping and receiving cargoes in a timely manner.
Value-added services (VAS)
Sorting, labelling, dividing, repackaging, kitting and assembly handled by experienced operators.
Warehouse Management System
Streamline warehousing and distribution process with integrated technology.
Warehouses are more than just storage facilities for inventory.
Aside from offering secure and affordable storage rental space, our warehouse services provide other benefits as well.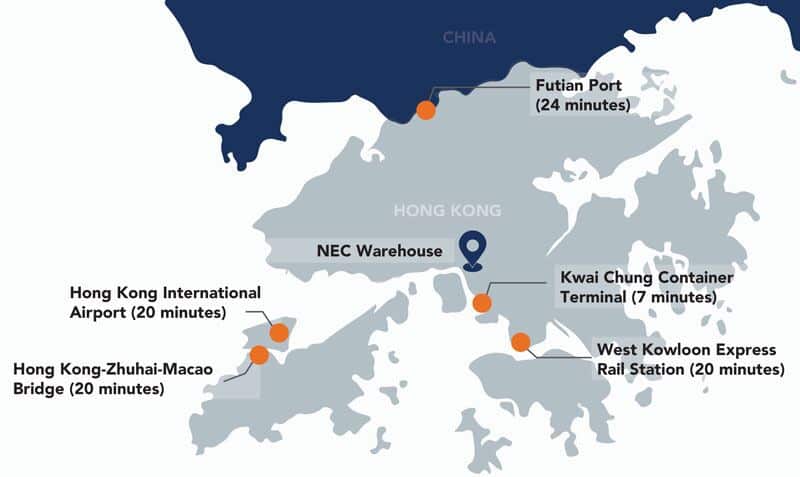 Reduced lead time
Located in the heart of Tsuen Wan and adjacent to Kwai Chung container terminal, our location offers convenient access to domestic and international suppliers. Easy and fast access to major container ports, rail station, airport, and major business districts within 30 minutes. We can reduce the time between when the order is received and when the goods are delivered, ensuring that your company serves its customers in an efficient, effective, and beneficial manner, which contributes to customer satisfaction and service quality.
Warehousing might not be the ideal solution for your distribution needs, especially those who demand faster shipping speeds, lower storage costs, and better customer service. Our cross-docking services can get your goods to your customers within 1-2 days after cargo arrival.
Scalability and flexibility

In comparison to in-house logistics, we offer flexible spaces that favor small-to-medium businesses whose demand and supply fluctuate. If your company grows and requires a few extra square feet of storage space, just give us a call. On the other hand, if you wind down operations in Hong Kong and require a smaller space, we also have you covered. Plus, we have over 170 fulltime employees with years of experience in logistics, ready to fulfill your changing demands.
Furthermore, most of our clients are manufacturers or distributors of electronic components, and they may be shippers or consignees with one another. Delivery to another floor in our facility is rather typical. In this way, the client may significantly decrease shipping expenses.
170+ Full time Permeant employees
310,000 square-foot whole building warehouse
Same day express delivery
Optimization of costs
The efficiency of warehouse operation is dependent on its layout design, including spatial planning, traffic flow strategies, and storage solutions. Backed by decades of experience, we can map out the best layout design and select the proper equipment according to your business model, transaction volume, and product type to create a productivity-boosting traffic flow that saves unnecessary storage and optimises company costs.
Step-by-step Logistics Gude
If you are considering outsourcing logistics or switching logistics service providers, we have a step-by-step guide for you to grasp an idea on how it works.
Analysis
Conduct site visit and gather data to determine current procedure and requirements

Analyse logistics data and operation to identify critical issues and room for improvement
Design
Create a plan and checklist for launching the warehouse

Design warehouse layout and operation procedure

Organise system requirements and develop a logistics system
Launch
Purchase warehousing equipment and set up the warehouse

Create a removal plan and manage the inventory transfer

Create working manuals and implement staff training
Continuous Improvement
Hold regular meetings to review performance

Design "Kaizen" (improvement) activities in the quality assurance department
We offer a full array of logistics solutions tailored specifically to your company's goals and objectives.
Contact us today and let us grow your business.